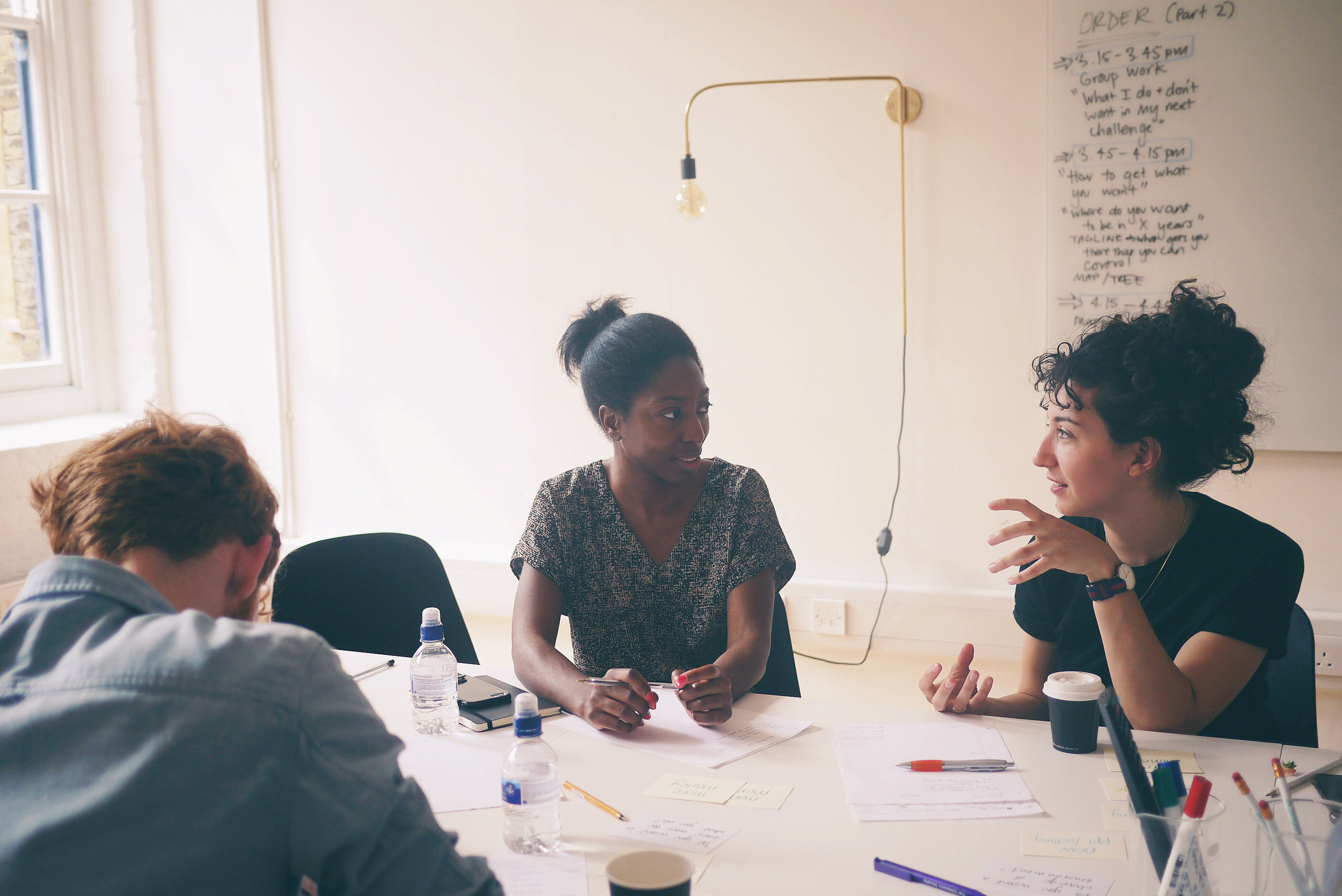 Mentors: NonTechTech
Hustle Crew Diversity and Inclusion Tech Community NonTechTech
Breaking Barriers with NonTechTech
Aaron and Abadesi have been hard at work building NonTechTech (NTT) a mentor directory and Slack community that enables you to contact mentors directly and get the support you need when you need it.
NTT is dedicated to breaking barriers in tech by sharing experiences, advice and information. NTT is a reminder that you don't have to be "techie" to work in tech. There are thousands of jobs in the tech industry that require zero coding skills.
Questions the NTT community can help with include:
What type of role in tech should I apply for and what sector should I get into?

Could you check my CV and cover letter before I submit it?

I keep receiving rejections after interviews, where am I going wrong?

I've been offered a job in a startup and they are offering me equity, how do I calculate its worth?
Meet Our Founding Mentors
Natalie Nzeyimana
Strategy at Nuanced
My LinkedIn
Miguel Garcia
Customer Success at Abintegro
My LinkedIn
Ore Apampa
Business Intelligence Analyst
(Freelance)
My LinkedIn
Natasha Lytton
Head of Marketing & Communications, Seedcamp
My LinkedIn
James Allgrove
Growth at Stripe
My LinkedIn
Mollie Smith
Operations at Cint
My LinkedIn
Kate Andrassy
Entrepreneur
ex-Fashion Strategist
My LinkedIn
Eliott Forman
Product at Tokencard
My LinkedIn
Shehleeza Khan
Co-Founder Machine Earth
My LinkedIn
Our Values
Curiosity
We ask thoughtful questions. We love seeing how the dots connect. We enjoy difficult challenges.
Focus
We have our eyes on the prize. And that prize is building the future. At every point, we take a step back and ask: "What is the next best move?"
Grit
We take a long view and know that this is a marathon and not a sprint. We know that if we refuse to lose, we'll find ourselves winning.

"Grit is passion and perseverance for long-term goals. Grit is having stamina." - Dr Angela Duckworth
Vulnerability
Authenticity and integrity are our currency. We foster a safe inclusive space for great ideas to flourish.
"Vulnerability sounds like truth and feels like courage. Truth and courage aren't always comfortable, but they're never weakness." - Dr Brene Brown
Empowerment
We pay it forward. We enable others. We care immensely about looking after our own.
Want to be a Mentor?
If you're passionate breaking down barriers in tech, sign up and start helping at nontechtech.com now.
Follow us on social media:
"Good things happen to those who hustle."
- Anais Nin
Hustle Crew Ltd. is Registered in England No. 10506065